Air Gripper Series Pneumatic Cylinder Tube, Aluminum Alloy Cylinder Tube
Product Detail
Product Tags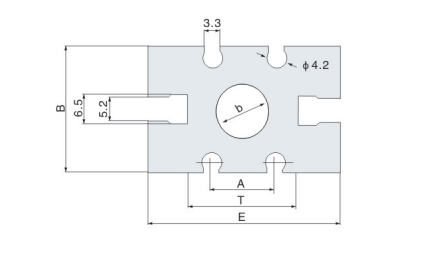 | | | | | | | |
| --- | --- | --- | --- | --- | --- | --- |
| NO | d | E | T | A | B | b |
| 1 | Φ10 | 23 | 12.4 | - | 16.5 | 5.5 |
| 2 | Φ15 | 30.6 | 19 | 11.6 | 23.6 | 7.5 |
| 3 | Φ20 | 42 | 24 | 14 | 27.6 | 11.5 |
| 4 | Φ25 | 52 | 29 | 18 | 33.5 | 13.5 |
| 5 | Φ32 | 60 | 38.5 | 28.6 | 40 | 13.5 |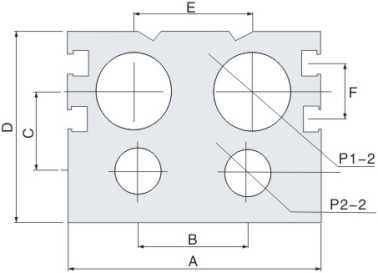 | | | | | | | | | |
| --- | --- | --- | --- | --- | --- | --- | --- | --- |
| NO | d | P1-2 | P2-2 | A | B | C | D | E |
| 1 | 10 | 9.2 | 6.5 | 44.3 | 18.2 | 12.4 | 12.4 | 20 |
| 2 | 16 | 15.2 | 9.5 | 55 | 22.5 | 16.4 | 16.4 | 25 |
| 3 | 20 | 19.2 | 11.5 | 65 | 28.2 | 20 | 20 | 30 |
| 4 | 25 | 24.2 | 13.5 | 76 | 33.3 | 23.4 | 23.4 | 38 |
| 5 | 32 | 31.1 | 15 | 82 | 32.3 | 30 | 30 | 40 |
| 6 | 40 | 39 | 17.4 | 98 | 40.2 | 37 | 37 | 48 |
Q1: What is the Air Gripper?
A: Air Gripper is also called air finger pneumatic cylinder.
The function of the Air Gripper pneumatic cylinder is to grasp and pick and place objects in the transfer workpiece mechanism, and it is to replace the manual hand to achieve the role of automatic gripping. It is mostly used in automated production lines, manipulators, automatic gripping and other automated mechanical equipment,
With the increasing degree of automation, the pneumatic finger cylinder has become a key part of modern machinery and equipment.
Q2 : Which fields need to use it?
A:Air Gripper cylinders are mainly used in manipulators, automobile/robot industries, molding machines/rubber and plastic machinery/machine tool industries, conveying equipment, packaging machinery, food, medical and chemical industries, office automation and other equipment manufacturing industries.
Q3: What is the model in Air Gripper (pneumatic cylinder aluminium profile)?
A: SMC standard MHZ2 and MHL2 pneumatic cylinder.
Q4: What is the bore size for MHZ2?
A: The bore size have 10mm, 16mm, 20mm, 25mm, 32mm, 40mm.
Q5: What are the characteristics of Air Gripper?
A:
1.All structures are double-acting, can realize two-way grabbing, can automatically center, and have high repeat accuracy.
2.The gripping torque is constant,
3. Non-contact stroke detection switches can be installed on both sides of the Pneumatic Cylinder
4.There are a variety of installation methods and connection methods,
5. Low air consumption
Q6: How about the MHL2 Air Gripper?
A: It is Wide Type Air Gripper MHL2.
1. Long strokes
2. Ideal for holding large-size workpieces that have dimensional variances
3. The double pistons provide a large amount of gripping force.
4. Built-in dust protection mechanism
---
Previous:
Extruded Aluminum Bar
---
Write your message here and send it to us