Guide Rod Aluminum Air Cylinder Tubes DFM Series
Product Detail
Product Tags
DFM Series Drawing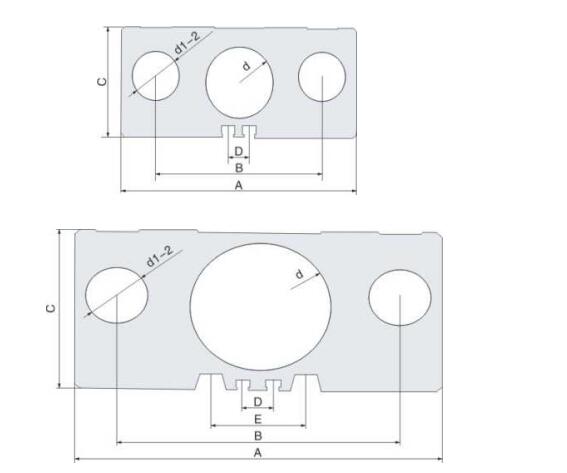 | | | | | | | |
| --- | --- | --- | --- | --- | --- | --- |
| NO | d | d1-2 | A |  B | C | D |
| 1 | Φ12 | Φ11.5 | 60 | 41 | 28 | 10 |
| 2 | Φ16 | Φ13 | 67 | 46 | 32 | 8.1 |
| 3 | Φ20 | Φ15.5 | 83 | 58 | 36 | 10 |
| 4 | Φ25 | Φ17.5 | 95 | 68 | 44 | 10 |
| 5 | Φ32 | Φ20 | 110 | 78 | 49 | 10 |
| 6 | Φ40 | Φ22.5 | 120 | 88 | 54 | 13.5 |
| 7 | Φ50 | Φ27.5 | 148 | 110 | 64 | 16 |
| 8 | Φ63 | Φ27.5 | 162 | 125 | 78 | 13.5 |
FAQ:
Q1: What is the DFM model? A:☆  It is FESTO standard. The bore size is from Dia12mm to Dia100mm.
Specification:☆Drive and guide unit in a single housing  
                       ☆High resistance to torques and lateral forces     
                       ☆Plain or recirculating ball bearing guide     
                       ☆Wide variety of mounting and attachment options     
                       ☆Wide range of variants for customized applications
Q2: If we buy the DFM, is it possible with anodizing for the Aluminum 6063 T5 Cylinder Tube?
A: This Pneumatic Cylinder is not recommended to be oxidized, because the customer needs to cut it himself and then process it and then perform oxygen treatment after buying it.
Q3: What is the length if we order Aluminum Extrusion For Pneumatic Cylinders?
A:The length is 2 meter.
Q4: Feature DFM model
A:☆With the guided drive DFM, you can count on precise guidance and great absorption of torques and lateral forces, coupled with a sturdy, compact design. It is suitable for clamping, lifting and stopping applications.
Q5: What is the delivery time about Aluminum Profile For Air Cylinder?
A: ☆If customized tubes, time need 50-60 working days, but if for the standard tubes, our delivery time is 15-20 working days.
---
---
Write your message here and send it to us