Guide Rod China 6063 Cylinder Tube MGQ Series
Product Detail
Product Tags
MGQ Series Drawing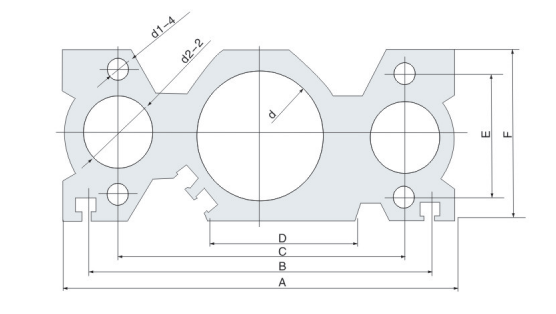 | | | | | | | | |
| --- | --- | --- | --- | --- | --- | --- | --- |
| NO | d | d2-2 | A | B | C | D | E |
| 1 | Φ12 | Φ9.4 | 58 | - | 40 | 12.4 | 18 |
| 2 | Φ16 | Φ11.5 | 64 | - | 42 | 11.6 | 22 |
| 3 | Φ20 | Φ13 | 74 | - | 52 | 18.6 | 26 |
| 4 | Φ25 | Φ17.5 | 88 | - | 62 | 19.1 | 32 |
| 5 | Φ32 | Φ20 | 114 | 98 | 80 | 33.1 | 38 |
| 6 | Φ4O | Φ20 | 124 | 108 | 90 | 46 | 38 |
| 7 | Φ50 | Φ27 | 140 | 124 | 100 | 58 | 44 |
| 8 | Φ63 | Φ27 | 150 | 134 | 110 | 65.8 | 44 |
FAQ:
Q1: What is the MGPM model?
A:☆  It is SMC standard. The bore size is from Dia12mm to Dia100mm.
☆ Air cylinder with an integrated guide that achieves lateral load resistance and high non-rotating accuracy
☆ Suitable for stoppers and lifters in the conveyor line
☆ Air cylinder with guide integrated that has achieved anti-lateral load and high non-rotating accuracy.
Two types of guide rod bearing for different applications Slide bearing Slide bearing Strength against side load is more than 2 times as compared current stopper cylinder (Compared to SMC RSQ series, round bar type). Ball bushing bearing Smooth operation is suitable for pushing, lifter and applications where high precision is required.
Q2: If we buy the MGQ, is it possible with anodizing for Pneumatic Cylinder Aluminium Profile Tube?
A: This Pneumatic Cylinder is not recommended to be oxidized, because the customer needs to cut it himself and then process it and then perform oxygen treatment after buying it.
Q3: What is the length if we order Aluminium Pneumatic Cylinder Tube?
A:The length is 2 meter.
Q4: What is the MGQ model ?
A:☆ It is SMC standard. It has two bearing type: Slide bearing and Ball bushing bearing.
☆ Air cylinder integrated with guide has achieved antilateral load and high nonrotating accuracy.
☆ Space-saving and compact design
☆ Suitable as stoppers or lifters in conveyor line.
---
---
Write your message here and send it to us