Guide Rod Air Cylinder Aluminum Tube
Product Detail
Product Tags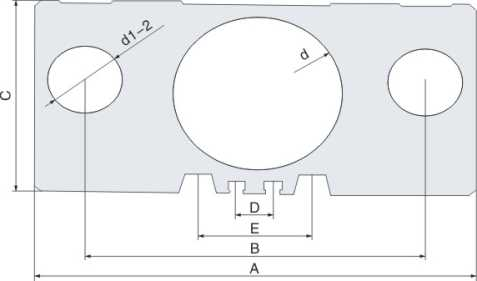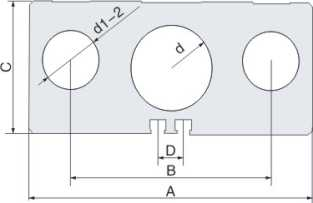 | | | | | | | |
| --- | --- | --- | --- | --- | --- | --- |
| NO | d | d1-2 | A |  B | C | D |
| 1 | Φ12 | Φ11.5 | 60 | 41 | 28 | 10 |
| 2 | Φ16 | Φ13 | 67 | 46 | 32 | 8.1 |
| 3 | Φ20 | Φ15.5 | 83 | 58 | 36 | 10 |
| 4 | Φ25 | Φ17.5 | 95 | 68 | 44 | 10 |
| 5 | Φ32 | Φ20 | 110 | 78 | 49 | 10 |
| 6 | Φ40 | Φ22.5 | 120 | 88 | 54 | 13.5 |
| 7 | Φ50 | Φ27.5 | 148 | 110 | 64 | 16 |
| 8 | Φ63 | Φ27.5 | 162 | 125 | 78 | 13.5 |
| | | | | | | | | |
| --- | --- | --- | --- | --- | --- | --- | --- | --- |
| NO | d | d1-2 | d2-2 | A | B | C | D | E |
| 1 | Φ20 | Φ9 | Φ18 | 108 | 70 | 32 | 55 | 60 |
| 2 | Φ25 | Φ12.5 | Φ17 | 130 | 85 | 38 | 65 | 70 |
| 3 | Φ32 | Φ12.5 | Φ20 | 135 | 91 | 44 | 73 | 80 |
| 4 | Φ40 | Φ12.5 | Φ22.5 | 170 | 114 | 55 | 93 | 95 |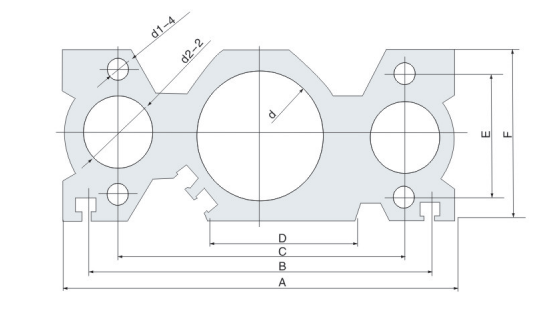 | | | | | | | | |
| --- | --- | --- | --- | --- | --- | --- | --- |
| NO | d | d2-2 | A | B | C | D | E |
| 1 | Φ12 | Φ9.4 | 58 | - | 40 | 12.4 | 18 |
| 2 | Φ16 | Φ11.5 | 64 | - | 42 | 11.6 | 22 |
| 3 | Φ20 | Φ13 | 74 | - | 52 | 18.6 | 26 |
| 4 | Φ25 | Φ17.5 | 88 | - | 62 | 19.1 | 32 |
| 5 | Φ32 | Φ20 | 114 | 98 | 80 | 33.1 | 38 |
| 6 | Φ4O | Φ20 | 124 | 108 | 90 | 46 | 38 |
| 7 | Φ50 | Φ27 | 140 | 124 | 100 | 58 | 44 |
| 8 | Φ63 | Φ27 | 150 | 134 | 110 | 65.8 | 44 |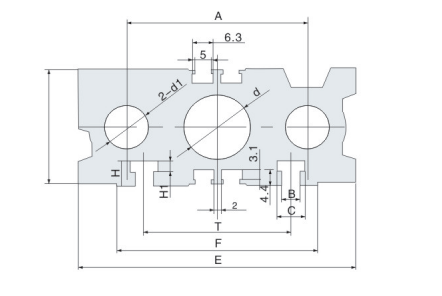 | | | | | | | | | | | |
| --- | --- | --- | --- | --- | --- | --- | --- | --- | --- | --- |
| NO | d | 2-d1 | E | F | T | S | H | H1 | A | B |
| 1 | Φ12 | Φ9.5 | 58 | 50 | 37 | 25 | 6 | 3 | 41 | 4.4 |
| 2 | Φ16 | Φ11 | 64 | 50 | 38 | 30.2 | 4.8 | 2 | 46 | 3.7 |
| 3 | Φ20 | Φ13.5 | 83 | 60 | 44 | 36.2 | 7.8 | 3.5 | 54 | 5.5 |
| 4 | Φ25 | Φ17.5 | 93 | 68 | 54 | 42 | 8 | 3.5 | 64 | 5.5 |
| 5 | Φ32 | Φ21 | 112 | 75 | 63 | 48 | 8 | 4 | 78 | 6.5 |
| 6 | Φ4O | Φ21 | 120 | 89 | 72 | 54 | 11 | 5.5 | 86 | 6.7 |
| 7 | Φ50 | Φ26.5 | 148 | 118 | 92 | 64 | 11.8 | 7.8 | 110 | 8.3 |
| 8 | Φ63 | Φ26.5 | 162 | 143 | 110 | 78 | 17 | 10 | 124 | 11 |
| 9 | Φ80 | Φ31.5 | 202 | 180 | 140 | 92 | 22 | 11 | 156 | 13 |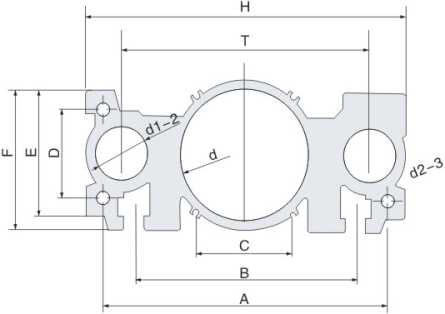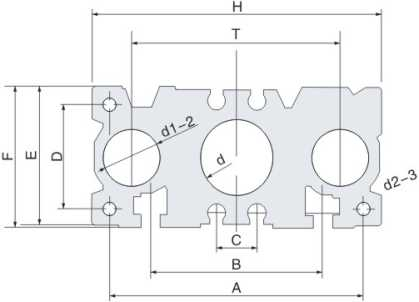 | | | | | | | | | | | |
| --- | --- | --- | --- | --- | --- | --- | --- | --- | --- | --- |
| NO | d | d1-2 | d2-3 | A |  B | C | D | E | F | H |
| 1 | Φ12 | 9 | 3.3 | - | 37 | 8 | - | 25 | 26 | 58 |
| 2 | Φ16 | 11 | 3.5 | 56 | 38 | 8.9 | 22 | 29 | 30 | 64 |
| 3 | Φ20 | 13 | 3.5 | 72 | 44 | 8.9 | 24 | 35 | 36 | 83 |
| 4 | Φ25 | 17.5 | 4 | 82 | 50 | 11 | 30 | 41 | 42 | 93 |
| 5 | Φ32 | 21.5 | 5.8 | 98 | 63 | 23.8 | 34 | 47 | 48 | 112 |
| 6 | Φ4O | 21.5 | 6.8 | 106 | 72 | 25.4 | 40 | 53 | 54 | 120 |
| 7 | Φ50 | 26.5 | 8.5 | 130 | 92 | 25.4 | 46 | 63 | 64 | 148 |
| 8 | Φ63 | 26.5 | 8.5 | 142 | 110 | 25.4 | 58 | 77 | 78 | 162 |
| 9 | Φ80 | 33 | 8 | 180 | 140 | 61 | 54 | 76 | 92 | 202 |
| 10 | Φ100 | 39 | 11 | 210 | 166 | 73 | 62 | 101 | 112 | 240 |
TCM Series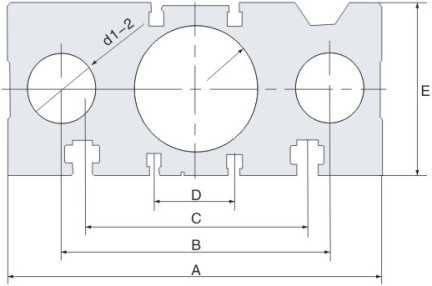 | | | | | | | |
| --- | --- | --- | --- | --- | --- | --- |
| NO | d | d1-2 | A |  B | C | D |
| 1 | Φ12 | Φ9.3 | 58 | 41 | 37 | 9 |
| 2 | Φ16 | Φ1.1 | 64 | 46 | 38 | 10.5 |
| 3 | Φ20 | Φ13 | 83 | 54 | 44 | 12.5 |
| 4 | Φ25 | Φ17 | 93 | 64 | 50 | 15 |
| 5 | Φ32 | Φ22 | 112 | 78 | 63 | 19.5 |
| 6 | Φ40 | Φ22 | 120 | 86 | 72 | 25 |
| 7 | Φ5O | Φ27 | 148 | 110 | 92 | 33 |
| 8 | Φ63 | Φ27 | 162 | 124 | 110 | 34 |
| 9 | Φ80 | Φ34 | 202 | 156 | 140 | 48 |
Guide Rod pneumatic cylinder tube
Guide Rod pneumatic cylinder have TCM ,MGP, MGQ,MGG,DFM model.
Our hot sell model is MGPM pneumatic cylinder
FAQ:
Q1: What is the MGPM model?
A:☆  It is SMC standard. The bore size is from Dia12mm to Dia100mm.
☆ Due to technological updates, this magnetic switch slot has changed from square to round.
☆ MGPM series thin guide rod cylinders are compact in structure, small, and do not take up space for installation. They can be installed in relatively small spaces; they can be fixed and installed from the bottom or side of the cylinder with screws, which is convenient for installation; the guide rod is thick and resistant Strong lateral load capacity, can bear larger lateral load, and can be used for pushing out and lifting the workpiece on the conveyor line; the guide rod structure has strong torque resistance.
☆ The MGP guide rod Pneumatic Cylinder is a Pneumatic Cylinder that combines the piston rod and the two guide rods parallel to the piston rod through the end plate. Therefore, the most significant feature of the MGP series guide rod Pneumatic Cylinder is the high non-rotation accuracy, located at ±0.04°~±0.08° , Suitable for machinery that requires high-precision guidance.
Q2: If we buy the MGPM, is it possible with anodizing for the tube?
A: This Pneumatic Cylinder is not recommended to be oxidized, because the customer needs to cut it himself and then process it and then perform oxygen treatment after buying it.
Q3: What is the length if we order it?
A:The length is 2 meter.
Q4: What is the MGQ model?
A:☆ It is SMC standard. It has two bearing type: Slide bearing and Ball bushing bearing.
☆ Air cylinder integrated with guide has achieved antilateral load and high nonrotating accuracy.
☆ Space-saving and compact design
☆ Suitable as stoppers or lifters in conveyor line.
---
Previous:
Slide Table Air Cylinder Aluminum tubing
---
Write your message here and send it to us